We have litters due in March that will go home in the summer.  We are expecting blue and seal colourpoints with great personalities!!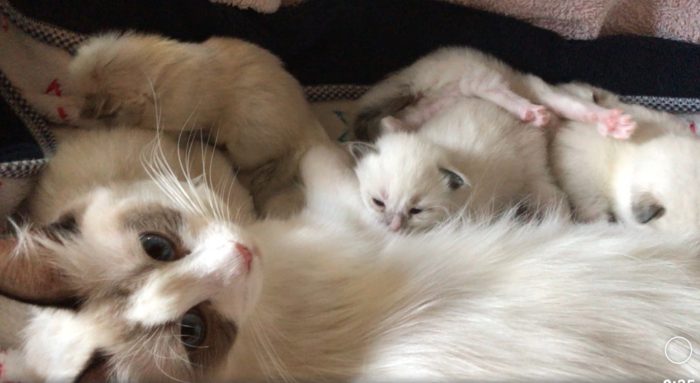 Lady Maggie and Hugo are due in March and we have a few others due after that. These are all for Summer delivery
Click here to reserve one of our Ragdoll babies
We are always available to answer questions. Just call or text anytime. We can also send you more photos to your phone.
Our cell phone is 682-262-7355 
**Visit our Queen's Page for photos of their previous kindles or call us to arrange a visit. 

 
 Florida Ragdoll Kittens are beautiful loved Ragdoll Kittens and cats raised in the heart of Texas.  We raise our Ragdolls in a clean, loving home environment with room to roam with dogs, cats, chickens and horses.  Our ragdoll babies are held and socialized from day one. They are allowed to clime and play in and outside at their leisure (once they are big enough). No cages ever.  When our babies go home they are healthy and very comfortable with being loved. They will adjust quickly & easily to your home and will be your little buddy for life. 
For more information on reserving on of our gorgeous babies Click Here>>

We have kittens available a couple of times a year, the process is about a 6 month turn around time: 62 days gestation and 12 weeks after they are born to wean off of the nest.  Register for updates on upcoming litters if you would like to be reminded when we have new arrivals. Or you can reserve a baby in advance so you are assured a Ragdoll when they arrive.

We respond to texts and emails throughout the process so you can be assured your baby is progressing.  We send pictures to you frequently of your Ragdoll baby so you can watch them grow.

All of our kittens are raised in their own room with 24 hour care, attention and love.

Your Ragdoll kitten will have been examined and vaccinated twice by a board Certified Feline Specialist Dr. Carrie Ann Mark at Kitten to Cat Hospital in Southlake, TX.   They can send all of your Ragdoll baby's early records to your local vet once they go home to you (upon request).

We use filtered water for all of our cats and kittens and recommend you do the same once they are home.

All of our Texas Ragdoll breeder Sires and Queens and their babies are TICA registered.

We offer a $200 discount when buying a 2nd kitten because they are much more fun in pairs! (This can be applied to a future litter as well.  Ask for details)

Texas Ragdoll Kittens are happy, healthy, and lovable!  We offer various colors: traditional,  seal & blue points, solids/mitted, bi-colors and minks.

We do not spay/neuter our Ragdoll babies because 12 weeks is too young for that procedure. If you purchase a pet, you will receive your registration papers once we receive confirmation that they were neutered.
They are truly loved from day one.  We decided to raise Ragdolls strictly out of our love of animals and the Ragdoll breed. We wanted to have an environment where our kittens could live comfortably in their own little cat playground, where they could grow big and strong.  We moved to a home in the country with a guest cottage so we could provide our Ragdolls with their own home where they could play and climb as all babies are supposed to do.  We believe a home environment plus great nutrition is what promotes good health and temperament in a Ragdoll.  Ragdolls are naturally loving and bond with their people, but how they start out their lives will affect the adult cat they become.  Our babies are never in cages and are attended to throughout the day from the day they are born.  We inspect them, clean them, nurse any wounds they receive, and keep their mother well fed while she is nursing.  The mothers require lots of extra food and love when they are nursing their babies in order for them to develop to their full potential.  We are hands on with them and feed them in the middle of the night when the babies are small.  This is what makes TEXAS RAGDOLL KITTENS unique. These are OUR  babies until they go home to you.  They start their lives in a quiet setting, but they are used to being handled and the sound of vacuums, washing machines and dogs.  All of these things help them to adjust to wherever they go.   They can live comfortably in an apartment or a spacious house. But they are bred to be pampered indoor companion pets and we give them the best start possible.

SHIPPING AVAILABLE
We are centrally located 8 miles from Dallas/Ft Worth airport and can fly your Texas Ragdoll anywhere without much discomfort.  We are now offering delivery to to the Florida Emerald Coast. We will either fly them with us under our seat, or hand carry them in our car. Either way, they will have save passage and our personal care every step of the way til they are safely delivered to you in florida. There is an extra fee for this service, depending on airline policies at the time. Please call or text to inquire.
If we need to fly them out, we try to ship them early in the morning so they get to you by lunch time.  They hardly miss a beat.  We feed them early and take care of their needs before they leave so they can go hours before needing a litter box or even water.  The airlines provide them with water if there is a connecting flight.  The one day of travel is not too bad when you consider they have been pampered since day one and are all well fed and cared for up until that day.  We have had good experiences so far flying them out of DFW.  We can also have them sent with a courier, extra charges apply.  Buyer is responsible for all shipping charges including veterinary health certificate required for travel.  Call for more information.
Shipping fee is roughly $285 to most airports in the continental United States. This fee includes airfare to get your kitten to the major airport of your choice as well as a certificate of health showing your kitten has been examined and is fully healthy for their trip home to you.  If you are shipping two (which is less stressful for the babies) the additional fee is only $90/additional cat.  Your kitten will arrive in a new pet carrier with a blanket from his nest and will have a small bag of TLCPetfood.com cat food to get them started out in your home.  They will also have had their vaccinations.
What's New!
For a quick glimpse at our new arrivals go to: our Available Kitten Page and sign up for email alerts.

Contact Us about placing a deposit for the 'Pick of the Litter'.  We take them in the order they are received and we charge a $200 advance option deposit for picks from upcoming litters.  Call for details.

Ruby had babies on May 25th. Millie is due soon.  Click Here to see our latest litters!
---
We think they make a great pet and are great company!  
They can even handle a house with dogs.  Watch Owen boxing with our Chihuahua, Charlie
Home | Available Ragdoll Kittens for Sale in the Fort Walton & Panama City Florida | Contact Us
Florida Ragdoll Breeders | Panama City, FL ragdolls | USA Ragdoll Breeder | Florida ragdoll kittens for Sale | Pensacola Ragdoll Cattery | FL Ragdolls
Search Terms: Ragdoll Kittens, Ragdoll Kitten, Ragdoll Breeder, Ragdoll Breeders, Ragdoll Cat, Ragdoll Cats, Ragdoll Cat for Sale, Ragdoll Cats for Sale, Ragdoll Kittens for Sale, Mink Ragdoll, Ragdoll Kitten for Sale, Ragdoll Kittens, Ragdoll Kitten, Ragdoll Breeder, Ragdoll Breeders, Ragdoll Cat, Ragdoll Cats, Ragdoll Cat for Sale, Ragdoll Cats for Sale, Ragdoll Kittens for Sale, Mink Ragdoll, Ragdoll Kitten for Sale, kitten, bicolor, ragdoll, kittens, tica, beautiful cat, cats, Texas, Houston, TX, League City, buying a Ragdoll kitten in Houston, TX Ragdoll kittens for sale Houston, ragdolls, Ragdoll kittens for sale Dallas, Ragdoll kittens for sale Fort Worth, Florida, Panama City, FL, Pensacola, buying a Ragdoll kitten in Florida, Ragdoll kittens for sale Panama City, Ragdoll kittens for sale Pensacola, Ragdoll kittens for sale Destin, Ragdoll kittens for sale Niceville, Ragdoll kittens for sale Santa Rosa Beach, Ragdoll kittens for sale Fort Walton, FL